Masonic Name Plate – Personalised
Masonic Name Plate – Personalised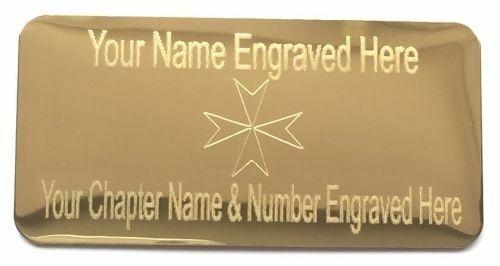 • Masonic Order Regalia Case Name Plate available in Brass or Silver.
• Personalise with your name and Lodge/Chapter name & number.

(This item will come FREE with all Regalia Cases purchased – simply let me know the details requested below in an eBay message when you purchase your case. If you don't want a new case just buy the name plate here)
Please state, in an eBay message, which personal name you would like engraved as well as your Lodge/Chapter Name & Number.
Easily identify your case once the meeting is over and stop your case leaving without you. It happens all too often and if your car, and house, key's are in your case how do you get home and in your house?
Have your name and Lodge number engraved on this Brass plate measuring 50mm x 25mm. Simply fix it anywhere on your case using the self adhesive strip on the back of the plate.
Please also note that this is a 'special order' item and our engraver takes approximately 5 day's to deliver the item to us – delivery to you would obviously take a little longer.